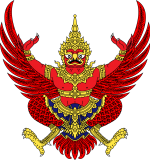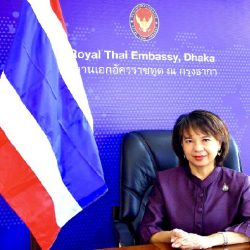 Thailand and Bangladesh celebrated the golden jubilee of diplomatic relations last year, signifying prosperous episodes of friendship and cooperation since 1972. As we look forward to adding more successful chapters to our relations, trade and investment will certainly be at the heart of our attention with BTCCI as one of the key players. 
There have been positive developments in this matter. On 2-5 March 2023, the Thai Trade Center in Dhaka organized the "Top Thai Brands" trade fair to promote Thai products which attracted over 20,000 participants. In the same month, the permanent secretary for Foreign Affairs of Thailand attended the 3rd Bilateral Consultations between Thailand and Bangladesh in Dhaka. He brought along a group of Thai business delegates who were impressed by the economic potential of Bangladesh. 
In this regard, I would like to thank BTCCI for the active support in inviting several Bangladeshi companies to attend the business matching session with their Thai counterpart on 14 March 2023 at the Ministry of Foreign Affairs of Bangladesh. The outcome was fruitful and encouraging, leading to prospective follow-ups that could boost our bilateral trade and investment.
This year, the economy of Thailand is expected to grow by 3.6 per cent, with contributing factors from the increase of domestic consumption and foreign tourists. For instance, in the first quarter of this year 31,327 Bangladeshis travelled to Thailand, constituting the second largest market of tourists from South Asia. Both countries could also explore possibilities to cooperate in sustainable development, disaster management and alternative energy along the lines of Thailand's Bio-Circular-Green Economy Model and Bangladesh's Mujib Climate Prosperity Plan.
I extend my best wishes to BTCCI to become a productive mechanism in connecting and facilitating interactions between the private sectors of our two countries. The Embassy stands ready to work with BTCCI in advancing our common economic prosperity, particularly to support the commencement of the free trade agreement negotiation process, which will propel our relations and cooperation to another great milestone.